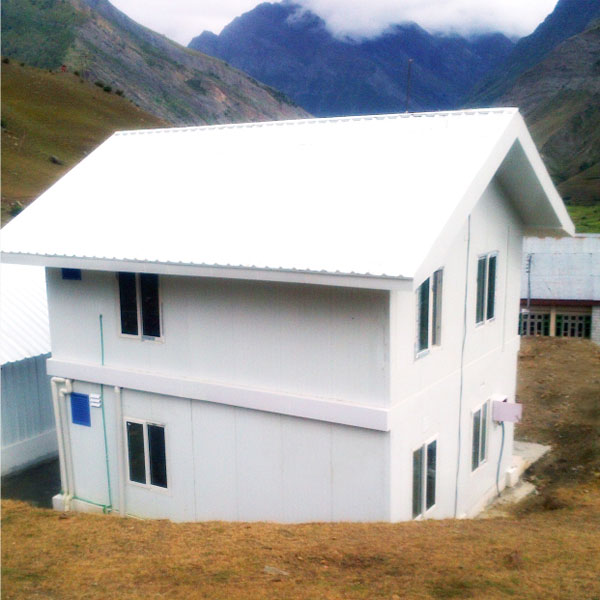 The demand for prefabricated shelter has been on the rise all over the globe, as it is quite economical and eco-friendly. Under prefabricated construction, you are required to assemble a large variety of components of a particular structure at the manufacturing location and then the sub-assemblies are transported to the construction site. Prefabricated construction offers simplicity in designs and a basic shelter can be constructed at highly cost-effective rates.
A large number of prefabricated shelters are composed of a frame manufactured from aluminium or steel and a frame. To guard against the various changes of weather, some prefabricated shelters' walls are manufactured from polyvinyl or glass. They can be installed at a very fast rate than the regular construction time and therefore, can save the contractor both the labour and material cost. The range offered by the industrial prefabricated shelter suppliers is highly durable and low in maintenance. It can easily withstand bad weather and humid conditions.
Currently, prefabricated construction has emerged very common and available in various budgets. It can significantly boost the quality of construction. Some of the features of these shelters are-
• Prefabricated shelters can be easily designed and meet various requirements of industry effectively. They are also known as movable building and due to this quality they can be used for both indoors and outdoors.
• Prefabricated shelters are usually available in complete form along with all the required equipment which includes windows, walls, floor strings, electrical wiring, and interior finishing. The manufacturers of prefab shelters offer immense advantages of flexibility, smooth expansion, relocation, and factory controlled quality.
• The biggest benefit of prefab shelter is the time saving quality as they are constructed as per the closely observed timetable within the premises of factory plant. Prefabricated shelter uses popular factory methods to boost the quality and bring down the manufacturing time and cost.
• You are always given the option of customisation and you can any time visit the manufacturing firms to tell them the specifications you need. You can even get an entire building constructed as per your own choice. According to your requirement, you can also get only a small portion customised.
• Another advantage of prefabricated shelter is that they don't pose any threat to the environment as they are constructed from eco-friendly products. During the process of assembling and installing, there will be zero debris production which is beneficial for the environment.
• Prefabricated shelters are used for all types of multi-story residential houses or leading project building. It is also used for manufacturing cook houses, dining halls, toilets, small storage sheds etc.
• Prefabricated shelters offer great protection from various threats of weather. You can stay safe from snowfall, rainfall, dust storms, hailstorm, and floods. In many foreign countries, cyclones and hurricanes often cause huge destruction. Prefabricated shelters can significantly resist such harsh weather conditions.
• It is expected that in near future, the popular construction companies may increase their investment in prefabricated shelters to pass the benefits to business and customer relationships.
Therefore, we can conclude here that the prefabricated shelter manufacturers in India will witness a rise in the demand of prefab shelters due to the various advantages that it offers to the users.