Load Bearing Ceiling – Get Durable And Corrosion Resistant Ceiling
Posted by Admin on December, 25, 2020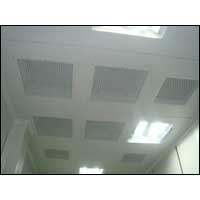 Load Bearing Ceiling is highly durable and Corrosion Resistant. You can choose the Fiber and PVC according to your needs.

Are you looking for load-bearing ceilings available online? Well, at present no shortage of the product gives amazing choices in creating custom and system build an answer to the most complex and complicated areas for the demanding environments of the clean room consumer.

The idea of the ceiling can be different from easy suspended lay-in-grid types to stylish construction and designs. Load Bearing Ceiling Exporter is offering the best product range for the customers who are looking for it.

Why you should choose the Load Bearing Ceiling:
• Simple to install: these ceilings are easy and straightforward to install. You can measure the space required to cover and place your order online. The experts can complete the job quickly.
• Can Carry heavy loads up to 150 Kg/m2: if you wish to know how much heavy load it can bear then you should know that it can bear up to 150 kg. It implies that a person can easily move and can do work on it.
• Durable: they are made of Fiber and PVC and remain durable every time. The standard width of the ceiling is about 847mm and makes a period just linked with ceiling enclosures. As it is 60mm or 80mm thick, it makes sure for long life and best for money.
• Abrasion-resistant: since the product is made with Fiber and PVC, they have high elongation, flexible recovery, and works of break have a good aptitude to withstand repeated bend; therefore a good amount of abrasion resistance is attained.
• Corrosion-resistant: the best thing about this kind of roof is that they are resistant to corrosion.

The perforated ceilings are highly proficient and very tough structures that give great assistance to different kinds of electrical wiring and suitable for easy maintenance and attractive designs. They are best known for the corrosion-resistant and great dimensional truth. If you are worried about high rates, then leave your troubles behind, you can easily find the competitive rates that receive the delivery at the right time.

Moreover, these are resistant to moisture and light in weight. It discovers the wide application in large noisy areas, which includes gymnasiums and work floors. Therefore, now be successfully managed with soundproof ceilings and wall panels. These can be personalized according to the personal needs of the customers and will be ordered online as well.
When it comes to Finishes, they are Epoxy polyester powder coated results in something better and improved. Now, you can easily give your office or home a new look. All you need to call the experts and find the solution according to your needs. They can share the right solution as per your needs. It is one of the most affordable and pocket-friendly options to add to the looks of the ceiling. Lots of people can choosing the option for the better looks.


This entry was posted on December, 25, 2020 at 12 : 27 pm and is filed under Load Bearing Ceilings. You can follow any responses to this entry through the RSS 2.0 feed. You can leave a response from your own site.